We were recently sent an iCandy Raspberry pushchair to test out and I was interested to see what it was like having read a couple of mixed reviews. We took the pushchair with us to Stourhead last weekend which is one of my favourite places. No matter what the season it's absolutely stunning and I'm looking forward to returning in a few weeks when autumn has properly hit and all the leaves are starting to fall from the trees.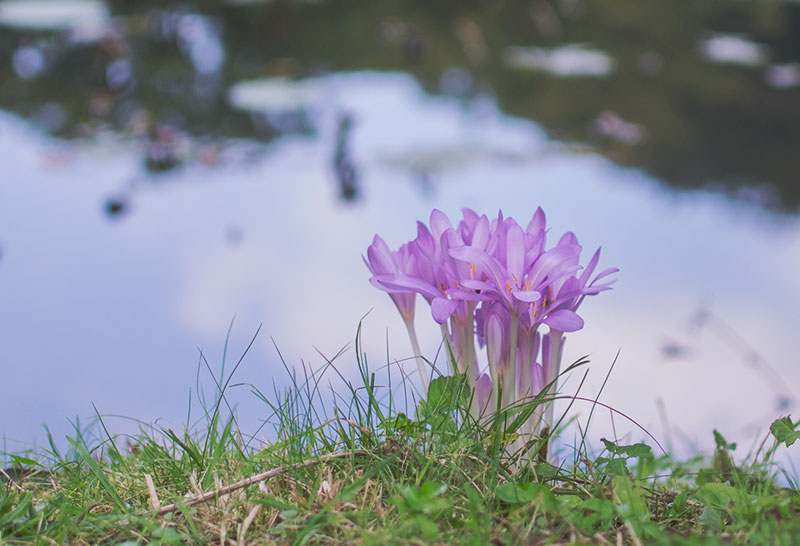 This huge bike is a temporary thing but how cool is it? Mr C could make something like this so it was inspiring for him to see, maybe a new business direction?! 😉
So back to the pushchair.. I opened the box up the night before and was pleased to discover that all you need to do it fold it up and attach the seat, I've struggled in the past when you need to start putting the wheels on and constructing it from scratch. I even managed to do this part without looking at the instructions, go me 😉
My first thoughts were how nice it looked, I went for the black chassis and black seat but it comes in a range of colours and the choice of a chrome chassis. I also noticed how smooth and easy it was steer and push, even Mr C came in and commented on that.
The hood and seat liner arrived separately and are both easy to attach, the hood is made of a lycra type material which is means it's really stretchy and easy to pull down, I haven't come across that before but I like it.
One of the most important things for me is how easy a pushchair is to put up and down and the iCandy Raspberry is easy, I had to try it a few times to get the hang of it but once it clicked I could do it without any issues, you can see me demonstrating in the video at the bottom of the page. I mentioned in the video that the basket wasn't that big but looking at it I've realised that it is, it's just that I'm used to having my bag at the front part but the shape of this basket means that you can't do that, we have managed to fit a huge load of things towards the back though as you can see in the photos below.
The brake is easy to put on and off and you can easily adjust the handlebar which is always a useful feature.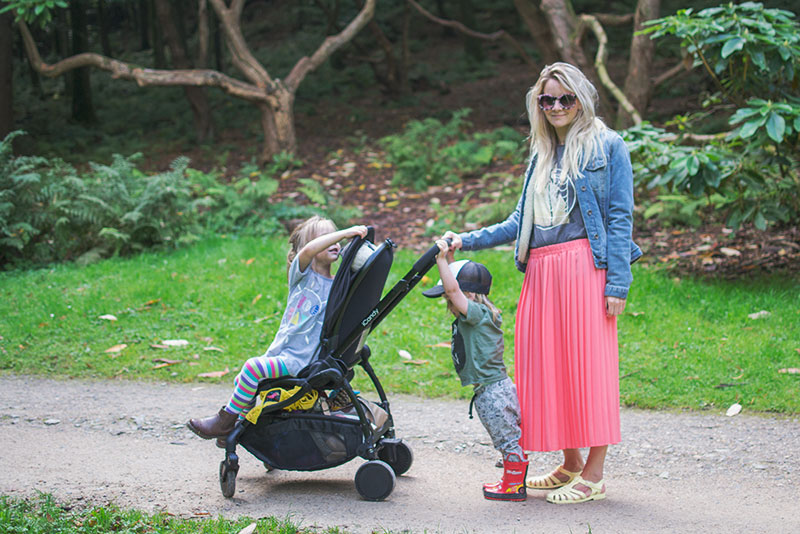 There is one issue with the pushchair that let it down a bit though which is that the seat is really small, as you can see in the photo below with the seat liner in there isn't much room at all. This toy isn't very big but is taken up most of the seat so although it's listed as being suitable for kids up to 25kg (approx 4 years) I just can't see it being that comfortable for them. Tiger is 2.5 yrs and fairly small for his age so he could fit in the seat okay but we struggled to get the straps done up even when they were adjusted to their maximum length. Without the seat liner you do get a bit more room though so maybe that would be the solution.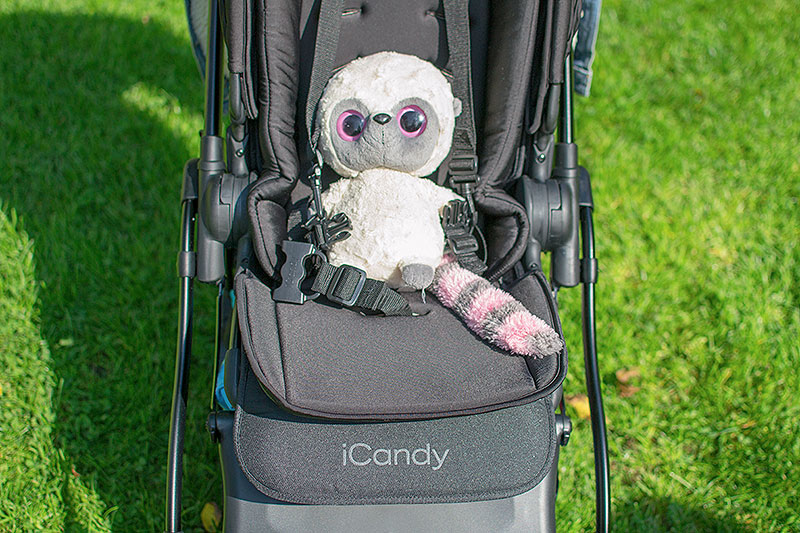 Overall I think it's a great pushchair but there are some situations I think it's best suited for. The first is pretty obvious given that it's listed as an 'urban pushchair' but it's not great at off road terrain. It doesn't cope well at all on bumpy surfaces BUT it pushes like a dream on pathways and flat ground. It is SO easy to steer due to the two spinning wheels at the front, I've actually used my old pushchair a couple of times since to compare and it's made me realise how hard it is to manoeuvre. I really struggle with it now.
The other thing would be the size of the seat, I think it's a pushchair you need to buy from birth (you can get an adapter to attach your car seat to the frame) so you get maximum usage out of it. If you have a child who is mainly walking by two and a half to three then it will have served you well. If however you have a child who would rather be pushed than walk (Cherry didn't really walk much at all until she was well into being four) then you might need to think about swapping it for a cheaper stroller which is why you probably wouldn't want to buy it any later than birth.
Another great feature of the Raspberry is the way it stands up when collapsed, you can also see this in the video. It's a really good feature for people who use trains and buses a lot and works well for us as we don't have much room in our house so being able to stand it up in the hallway saves a lot of space.
You can also have the seat parent facing which is something I definitely looked for in a pushchair when the kids were younger, Tiger was parent facing until he was about two at which point he got bored of looking at me and wanted to see the cars instead!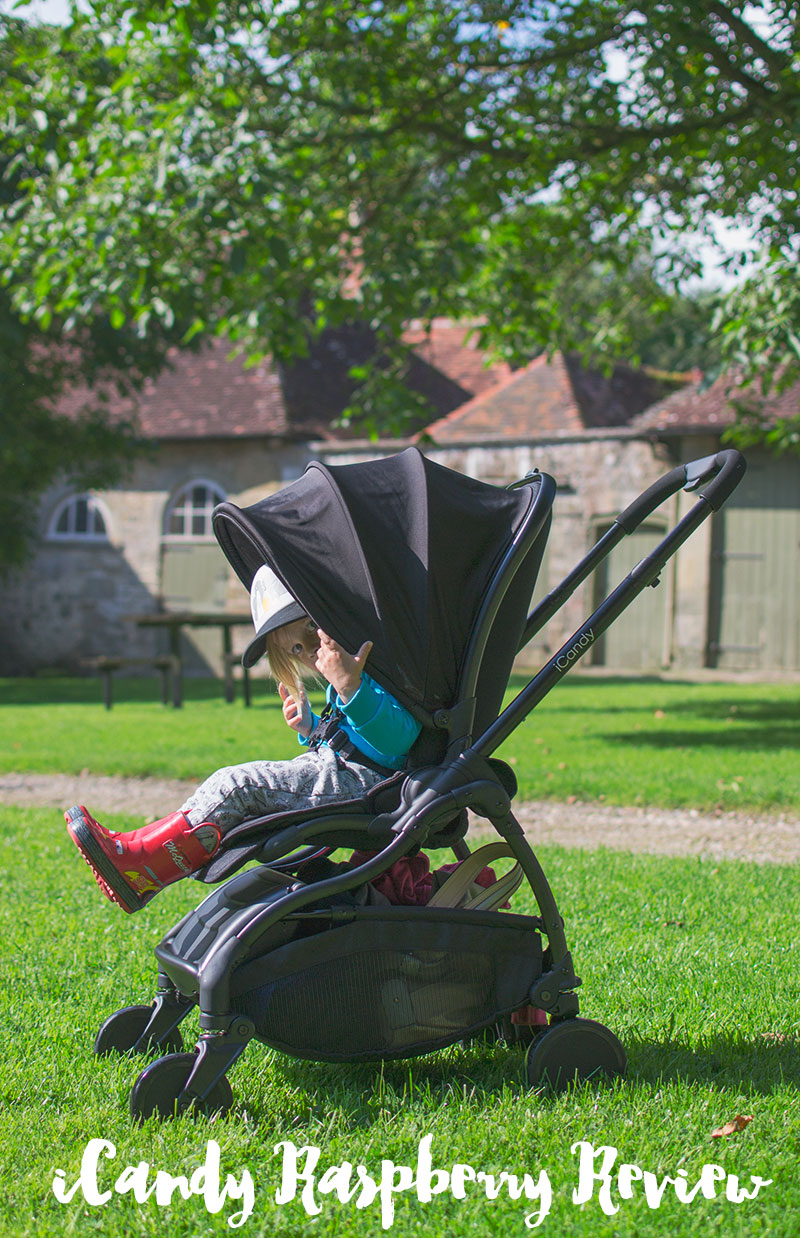 You can read more about the iCandy Raspberry here, a review on Pushchair Expert here and here is a little video I made of it being pushed around and put up and down…
Thanks to iCandy for sending us the pushchair in return for an honest review.