I can't believe we are now in September. I usually really look forward to Autumn and the change in seasons but I'm just not this year, I think because I have got too used to the sun. I honestly can't remember the last time we had a Summer like this and the thought of months of cold weather just doesn't fill me with much joy. Even the thought of Christmas isn't exciting me but I'm sure I will get into it nearer the time.
Last week we went down to Devon for a little holiday with my dad. It was so nice to spend the week with him and rather unbelievably for this country the sun shone all week!
It ended the Summer in a perfect way.
Our holiday apartment was in Ilfracombe which I have to admit has it's negatives, in fact on first arrival we all thought it was a total shit hole but it did win me over by the end of the week and I actually think rather fondly of it now.
One of the things we loved was Tunnels Beach, you have to pay to go in but after walking through some tunnels you come out on a beach which looks like nothing special to start with but once the tide is out it reveals lots of rocks pool, pebbly beaches and a huge rock formation which looks like a massive swimming pool. It's fantastic for kids and I love that there is no sand. I am not a big fan of sand.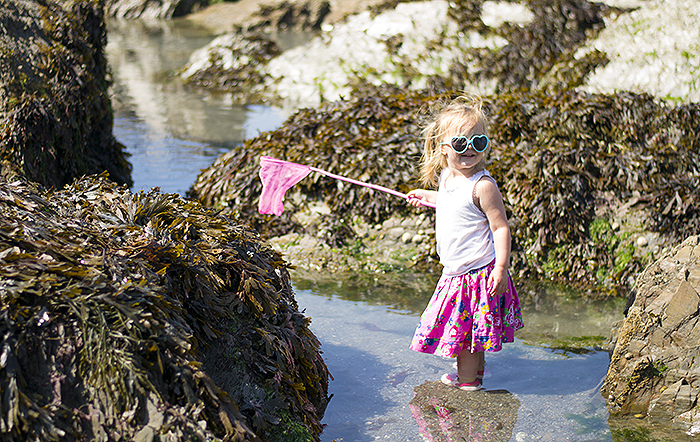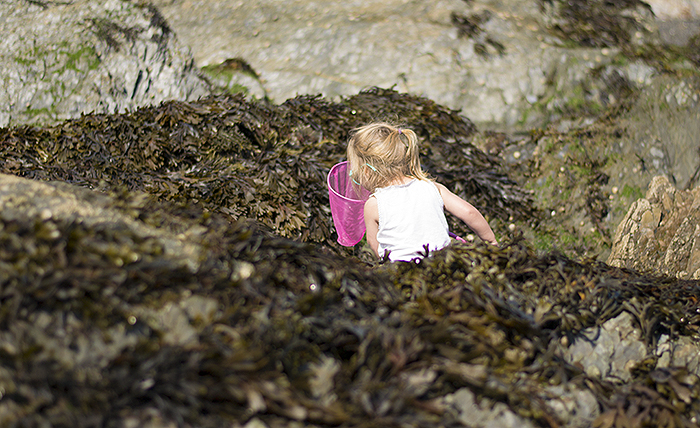 We also found a couple of restaurants that had lovely outdoor seating areas. One of which did the most amazing halloumi salad, they also made their own seeded bread which was SO yummy. In fact I would consider going back just to eat it again!
We walked up to Chambercombe Manor (not realising it was up lots of steep hills!) which is supposedly haunted. Unfortunately I read the info wrong and it was only open for guided tours when we got there which we knew Cherry wouldn't like to so we walked around the gardens instead which were gorgeous.
We did lots of walking, lots of ice-cream eating, ate fish and chips, drank cold beers and had a really lovely time.
Although next year we know we won't be so lucky with the weather so my dad has suggested Greece instead. I'm looking forward to it already!