I can't quite believe I am now 33 weeks pregnant. Time is going so quickly.
I had another growth scan today to check that the slapped cheek virus I caught a few months ago hasn't affected the baby and luckily everything still looks fine.
I saw the midwife last week and everything was okay so our next appointment will at my house in three weeks time to run through the home birth procedure. Fritha who blogs as Tigerlilly Quinn has very kindly offered to lend me her birthing pool and I have a big pile of old sheets that is growing by the day so it is all starting to feel quite real and exciting.
I have been feeling quite positive and happy again over the last couple of weeks which is good, especially as I was suffering with really bad anxiety before that. My mood swings have calmed down a bit too which is good. I haven't cried over any bacon lately! Although that might just be because Mr C knows better than to touch any of my bacon. I have finally had what I would call a craving, for bacon and egg sandwiches! It's funny because I had never even eaten a bacon and egg sandwich until a few weeks ago, I only ever used to moan about the smell when Mr C cooked them but now I could actually live on them. I am trying to ration how often I eat them though because they aren't the healthiest things in the world. Good job I cut out sugar!
I have been listening to my Natal Hypnotherapy CD a lot more and it must be helping because I don't feel at all worried about the birth. The only thing I hate is not knowing when it's going to happen. I like to know things and it's a horrible feeling when it gets to the stage where you are going to bed not knowing whether that will be the night that you wake up and have a baby.
I have been getting backache a lot, getting into my bath at the end of the day is the best thing ever, I spend about an hour in it. I'm not quite sure what I would do without it!
I'm still finishing off a few bits of painting around the house but once that is done I will start washing all the baby things and getting ready to rest for the last few weeks!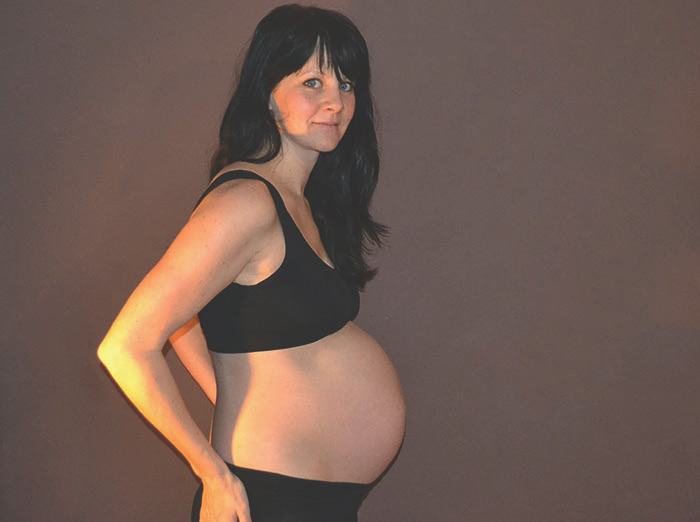 22 Weeks Pregnant
20 Weeks Pregnant
13 Weeks Pregnant