We were recently sent a Fisher Price play mat for Tiger to test out, well I say for Tiger but Cherry has become pretty attached to it herself!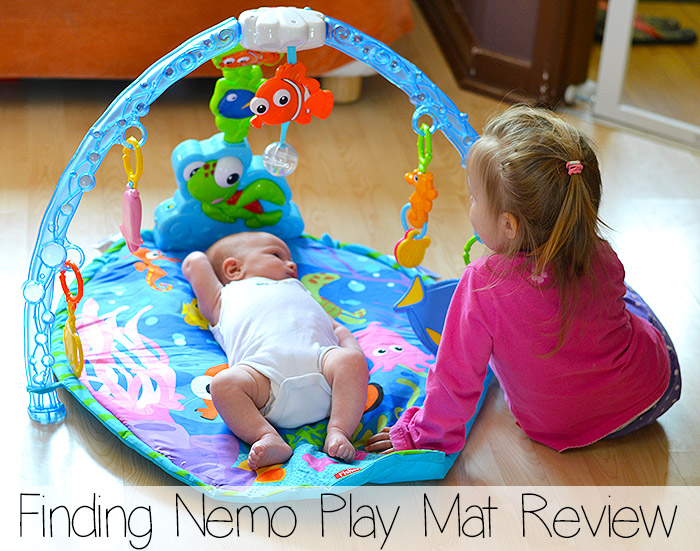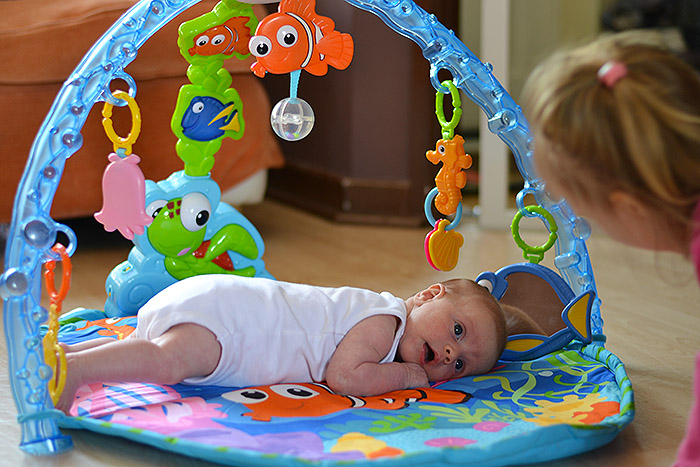 The frame has three plastic bars which click together easily and attach to the mat which is really padded. We have laminate flooring and even on that it was still comfortable for Tiger to lie on.
Once you have put batteries in you can push the turtle and it plays lots of different music and the blue and orange fish light up and flash. As your baby gets older you can lie them with their feet towards the turtle and they can turn it on themselves – luckily for Tiger he has an older sister who is more than happy to do it for him (even when he's nowhere near it!)
The play gym has a big orange fish (Nemo) dangling from the top of the bars then it comes with detachable fish which clip onto the rest of the frame. One of which is a big mirror.
Here is Tiger looking like he's about to punch Nemo!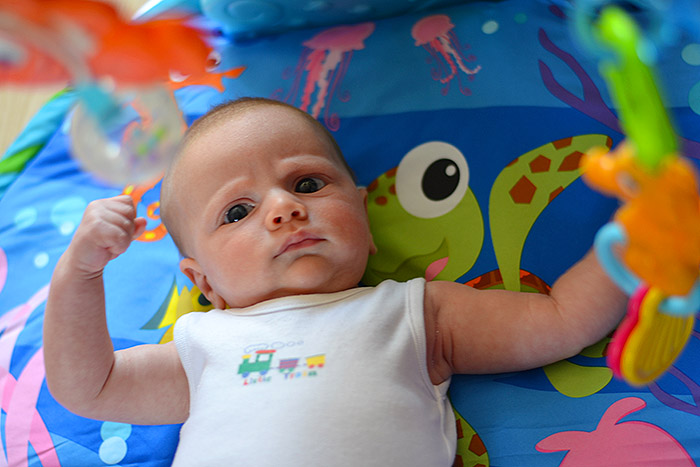 The Fisher Price play mat is so brightly coloured which is great for catching babies attention and Tiger is fascinated by all the fish hanging down.
The Fisher Price play mat is also great for babies to practice tummy time and the fish can be placed low down to catch their attention and help them lift their head. The mirror is also good for this as they can look at themselves when lifting up their head.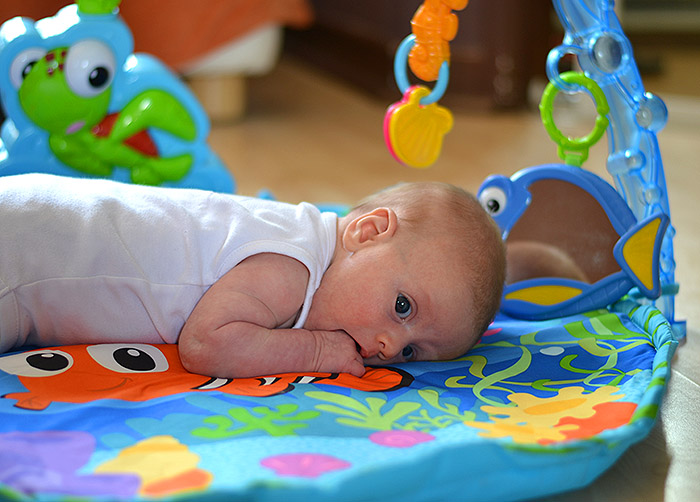 Overall we are really impressed with the play mat. Tiger's favourite part at the moment is the little pink octopus, we also clip the it onto his bouncer which has hooks for hanging things and he laughs at it for a really long time. The frame is really easy to take apart should you need to take it out with you and the mat is a really good size so you could fit two babies on it if you needed to.
It hasn't actually been released yet but will be going on sale this week in Argos priced at £64.99.
If Finding Nemo isn't your thing then you can view lots of other Fisher Price play mats here.
Disclaimer: We were sent this product free of charge for the purpose of this review but all of the opinions are my own.