I love bunting, paper bunting, fabric bunting..
Cherry has some floral bunting hanging on her half of the room and Tiger has some pirate bunting on his half. It's a nice way to divide their room up and it looks so pretty.
I have plans to make all kinds of bunting, once I have some spare time and get my sewing machine out of the loft. I would imagine that soon every room in our house will have bunting hanging from the ceiling.
This week we made our own paper bunting using some free, printable templates.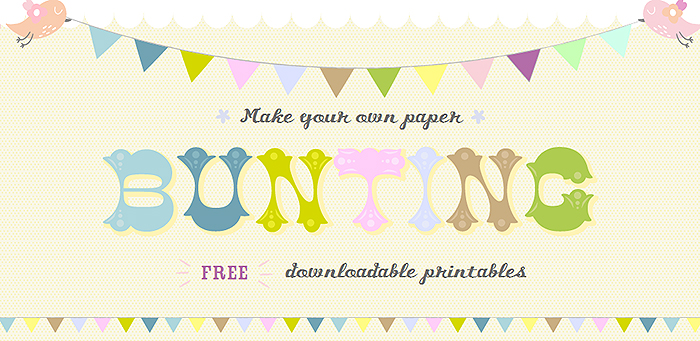 We printed off the paper bunting in party theme which was coloured and came with some letters for you to add if you wanted to, and the colour your own one too.
Cherry wore out her enthusiasm for colouring in-between the lines a bit quickly and by the last one just scribbled but I guess it adds a bit of character!
Here is the finished result…
Once you've printed them out you just cut them out glue them over some ribbon.
 The colour your own paper bunting is great as you can use colours that fit in with the colour scheme of your house, or just let your kids loose depending on how much control you have over these things! It's also a good way to keep the kids entertained for a while.
If you would like to give it a go then you can find the templates here.
Post is in association with Vertbaudet.