Our weekends have suddenly become super busy, in fact we don't have a free one for nearly two months which is really good. Until you get invited to something or have to try and arrange to see someone that is, then it becomes a bit stressful.
Plus it means by Monday morning the house is an absolute state as we've not been at home to keep it tidy (ha, this is my excuse anyway). I've actually realised this week how impossible it is to keep your house clean and tidy when you work, have kids 24/7 and don't want to spend your only free seconds cleaning up something that will end up messy again two minutes later.
Anyway on Saturday morning we went to a family photo shoot for Mr C's mum's birthday present, there were seven kids aged 4 and under plus about the same number of adults all in a small room being asked to pose, I'm sure you can imagine how it went! Hopefully they got some nice shots though.
Then we went for a walk, a walk that turned out to be the windiest one ever. It also involved climbing up about 500 steps (more on that in the vlog at the bottom), it was so windy that we only managed about ten minutes up there as Tiger hated it so we went back down to write in the sand with sticks. After Cherry nearly toppled head first down the stairs, scary moment!
On Sunday morning we headed to a car boot sale, I was hoping to find a guitar but instead came away with a few more vintage cups and bowls for my collection despite Mr C following me around telling me we 'did not need any more cups'. It's not like these ones are for actually drinking out of so it doesn't count 😉
The car boot sale is on a farm and looks out over some lovely scenery as you can see in the photo below. It's funny because on the other side of me is about 500 cars and hundreds of people walking around. That wouldn't have made a very pretty photo though.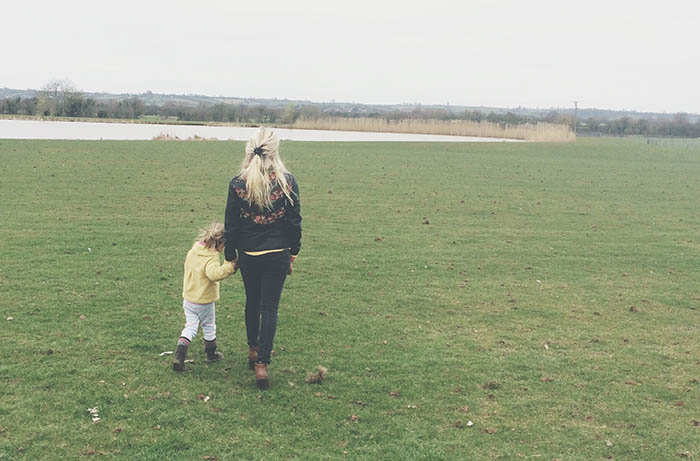 After the car boot sale we headed to Mr C's mum's party which was in a little village hall. There was a skate park at the end of the field much to the kids delight. And the best part was that it was sunny, in fact if you sat in the right place it was really rather warm. Come on warm days!
Leaving with ALL the balloons!
It was a really lovely weekend, you can't beat a car boot sale, some sun and a walk in gale force winds 😉
And here is my little vlog for anyone interested. Not sure if you are or not but I quite like seeing people talk after reading their blogs, it's interesting to know what they sound like. Do let me know if this is how you imagined me to be!