Cherry had a normal sized cot when she was a baby (as opposed to a cot bed) so she had completely outgrown it by the time she was 18 months old. She still seemed too small to be going into a single size so we bought a toddler bed for her to go into next, which is actually the same size as a cot bed.
Now she is three and a half she is starting to get a bit big for it so we are trying to decide what option to go for next.
As she shares a room with J we have been thinking about bunk beds, although he is in a cot bed so won't be ready to move into it for a good year to 18 months.
Plus we are hopefully going to be moving at the end of the Summer in which case they might not be sharing a room any longer, unless I decide to use the third bedroom as an office that is 😉
If they do have their own rooms then I love the mid-sleeper to high-sleeper beds.
Making use of the space under the bed seems like such a good idea, especially when you don't have much room.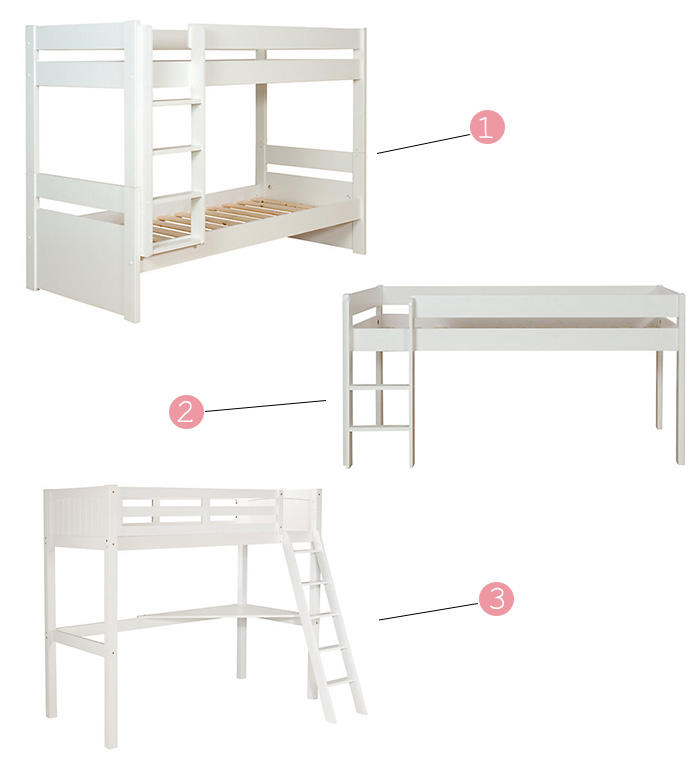 1 – Stompa Detachable Bunk Beds
I used to be so desperate for a high-sleeper bed when I was younger and I think that's why it's the one I'm swaying towards for the kids. Even if they were sharing a room they could have one each and it would give them their own little workspace underneath.
The one I've shown below is my favourite, it's the Ashton high-sleeper with desk and bookcase and I love it, although it is a tiny bit out of our price range!
Once I've decided on the bed situation I will have to start thinking about how to decorate the room bearing in mind Cherry is obsessed with pink and princesses and J as far as I'm aware, isn't!
This article has some great tips when it comes to decorating shared bedrooms.
All of these beds are from the John Lewis children's furniture range.
Do your kids share a room?
This is a collaborated post.