Read…
My to do list, it's LONG!!
Watched…
We watched the first two episodes of Vikings last weekend, it's really good and the main guy is so attractive. I hate to say it but I think he's hotter than Jax Teller from Sons of Anarchy! It is quite violent though and there are three seasons so I'm not sure I want to get into it but Mr C really liked it so we will no doubt end up watching some at the weekends. That's all I've watched though, life without telly is going so well, it's been such a positive change for me.
Yesterday we also went to watch the balloons taking off at Bristol Hot Air Balloon Fiesta. It's such a great event and completely free too. The kids loved it.
Wore…
I found this floral playsuit at a vintage fair a few weeks ago, I love it but it's not practical when you need a wee as you have to pretty much take it off!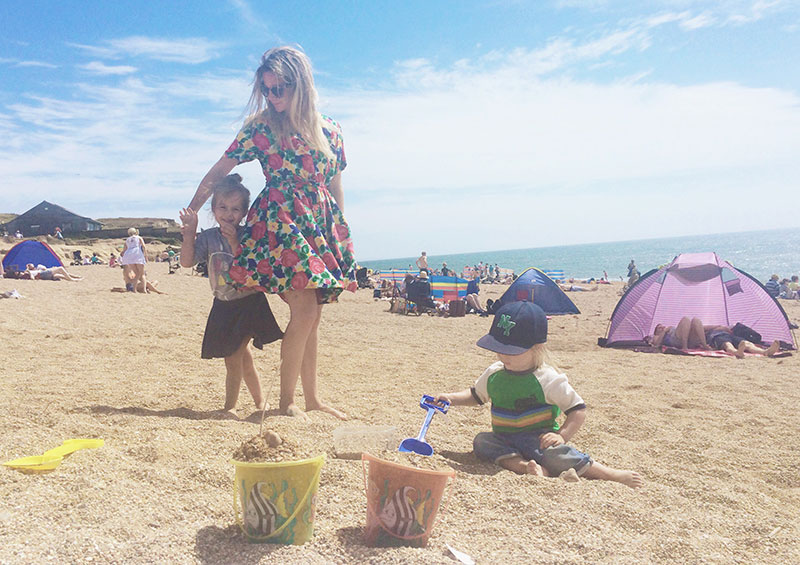 I'm also making the most of wearing all my vintage summer skirts because there won't be long until they need packing away. Sob.
Heard…
I saw Jarrod Dickenson play on the Glastonbury Festival highlights and really liked the sound of him so I've been listening to his album a lot, also having a blast from the past and listening to the Kings Of Leon. I really love the way Cherry likes the same music as me, even if it's songs she's never heard before she will nod her head and really get into it. Listening to the Kings of Leon reminded me of when I saw them at Glastonbury Festival, they were so good.
Made…
We made these flower gardens out of Hama Beads, the kids each made their own and really enjoyed it.
The apples of the tree in our garden are reading for picking so I made a huge crumble or 'cum ball' as Tiger calls it. I make it with oats, ground almonds, maple syrup and coconut oil so it's healthier that normal crumble and the kids love it, they eat two bowls every sitting.
I've also been helping Mr C 'make' his blog / website. This is his latest car project, it used to be a campervan but he took the back off and turned it into a pick-up truck. He's also just about finished fixing his hot rod after the crash a few weeks ago so we are off to a hot rod show this weekend to showcase it.
And Lastly…
Last month Mr C got to do a track day at Donington Park thanks to Money Supermarket. They sent a film crew up and we got to see the video they made this week. I really love it, Mr C found it pretty difficult to watch himself on camera though, he avoids it usually but had to be interviewed for this! Now I'm trying to get him to let me film him talking about his car projects, he will be vlogging before we know it 😉