A couple of months ago my friend told me about a company called Canopy and Stars who specialise in unique glamping. She showed me some of the safari tents and we were talking about how it would be fun to go and stay in one together.
Then a few weeks later I received an exciting email from them, total coincidence! It was inviting me to spend the morning with them at one of their locations: Harptree Court, Somerset, home to an amazing treehouse, as well as a yurt and B+B. It's not very often that events like this happen near me, it's always nice to be within driving distance and not have to take a train, I'm not the biggest fan of public transport ;). I also couldn't wait to hear more about the company as I'd spent so much time looking through some of the weird and wonderful places on their site.
We love places that are a bit different and their 'on wheels' section is our favourite, no surprise given Mr C's obsession with vintage cars. He is always talking about renovating a double decker bus into a house so The Big Green Bus is a real favourite of ours as it allows you to have a little taste of what it would be like to live in one. Then there are gypsy caravans, air streams and my ultimate favourite: The Majestic Bus which we have since been to stay on and I can tell you it was every bit as amazing as I imagined, maybe even more so.
Canopy and Stars have glamping properties all over the UK as well as a number of countries in Europe. They also cater for all budgets so if you are looking for a holiday with a twist then I would definitely recommend you checking with out.
During our morning at Harptree Court we were given a tour of the house and B+B by Linda and Charles who own it. It's a Grade II listed property and it was so interesting to hear the history of it.

It was actually where the first few seasons of The Great British Bake Off were filmed too, just across this bridge!
We were also shown around the Harptree Court gorgeous gardens. Doesn't the middle of this flower look just like a pom pom?! You can tell I love crafting 😉
Then we took a walk over to see the treehouse and yurt.
The treehouse is amazing, it really feels like you are up in the trees when you are on the decking and just check out that bathtub!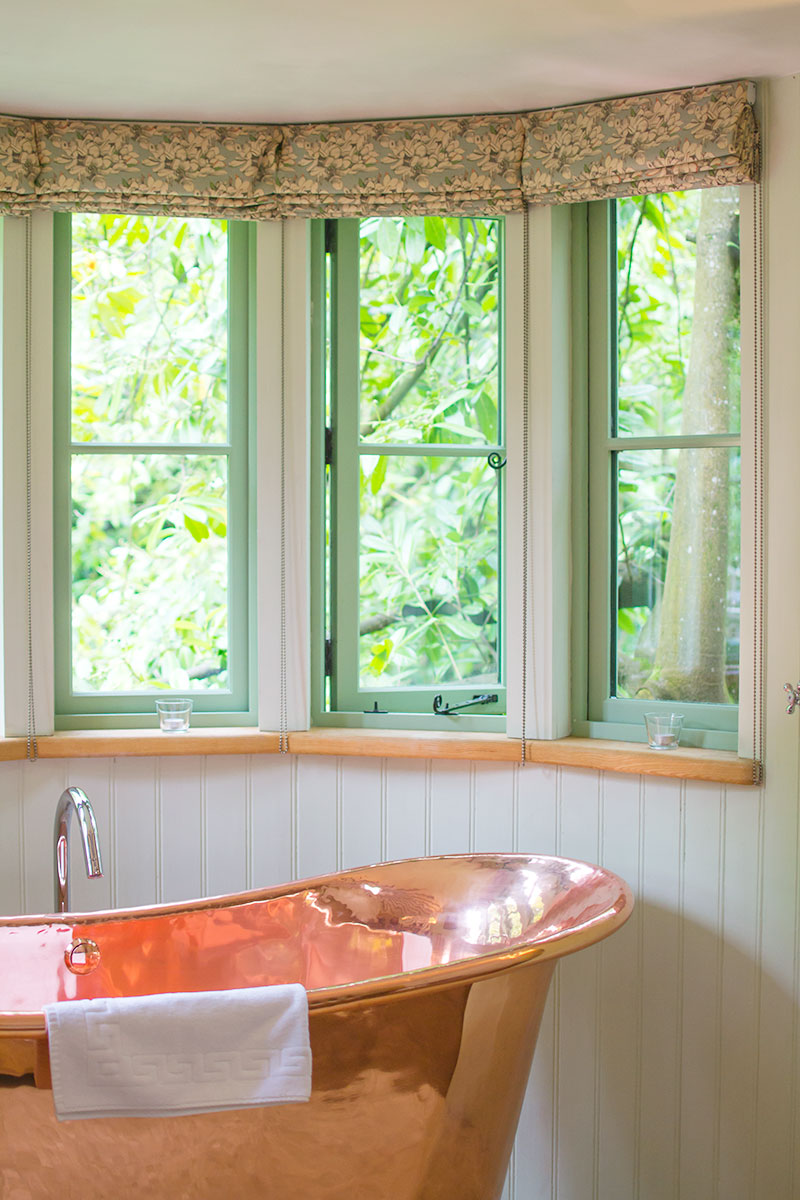 Then the yurt is about as far from how you are probably imagining as possible! It's actually three yurts all inter-connected so you have a bedroom, living area as well as a bathroom. It's not often you see yurts with baths and toilets like these, definitely putting the glamour into glamping 😉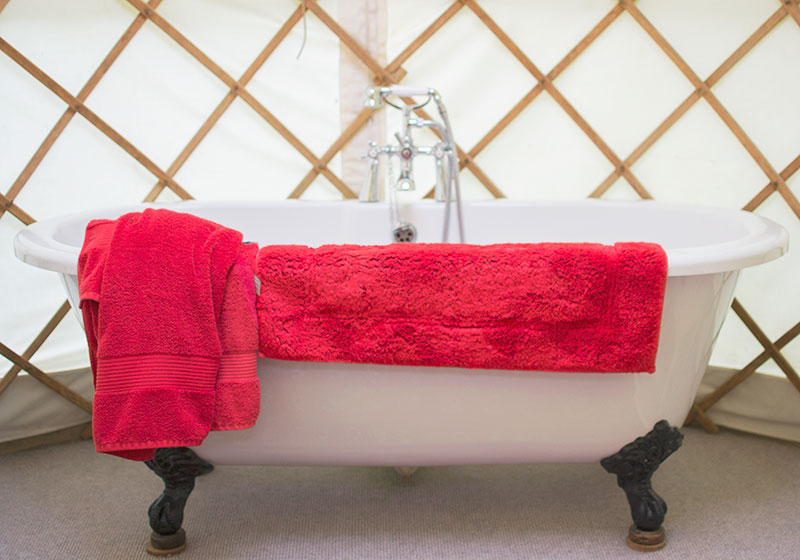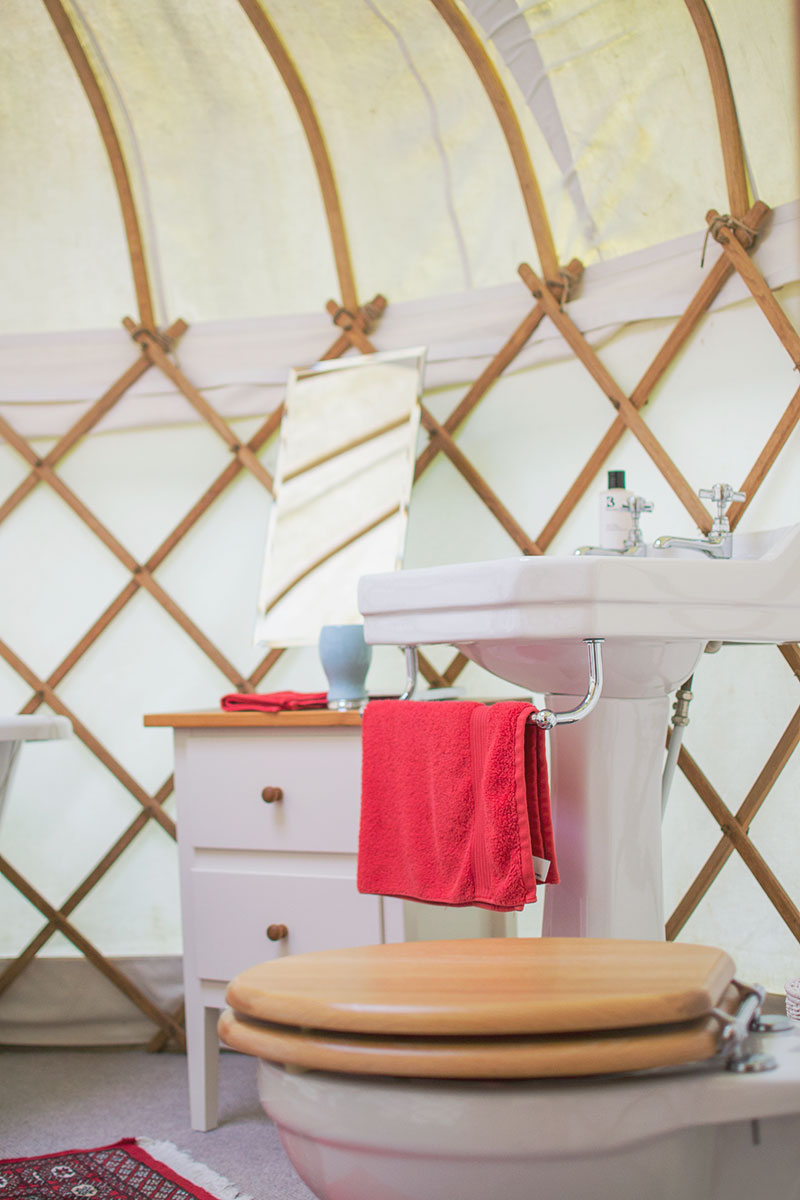 The treehouse and yurt even have dishwashers, a holiday isn't really a holiday without one 😉
After the tour of the property it was back to the main house for lunch which had been prepared by Linda and was absolutely delicious, this photo makes me laugh because as hungry as we all were the first thing a group of bloggers do when greeted with a table of food like this is take photos of it! How amazing does it look though? It was made using local and organic ingredients too including free range eggs from across the road.
We also all did the little 'What's In Your Bag' quiz that is on the Canopy and Stars website at the moment, it's a really fun way of seeing what type of glamper you are. I was a glamourous glamper and it pulled up the most expensive property on their site as a good match for me but at over £1000 a night it might just be a tiny bit out of my budget 😉
If you did want to try it out you can do so here and by doing so you will also be in with a chance to win a £500 gift voucher towards your next adventure and £1000 worth of gear to take with you.
I had a great day hearing more about Canopy and Stars and will definitely be booking a trip to one of their destinations very soon.
Thank you to the lovely people at C+S and Harptree Court for inviting me.
If you would like to read about our stay on The Majestic Bus then you can find it here – Canopy and Stars Review Of The Majestic Bus.