A few weeks ago we went to stay on a review spring break at Bluestone Wales.
We were supposed to be visiting last June but I ended up being called in for an operation a week before so had to cancel, they very kindly invited us back this year though and we were very excited to finally get to go and check it out.
We arrived at the Bluestone Wales resort (after a long few hours in the car!) at 4.30pm (when it opens) which meant we could check in straight away. Had we arrived any earlier we could have gone to use the facilities until that time. If you arrive at 4.30pm on the dot then you will have to queue for a little while to get into the resort so you might want to arrive a little bit later.
Once you have checked in you are able to drive your car to your lodge to unpack, then you have until midnight to return it to the car park. The Bluestone Wales resort is car free so after this point you won't be able to drive around. Unless you are leaving early of course in which case you have 45 minutes to take it in.
We were staying in a Skomer Lodge which was absolutely perfect for us. The lodge had three bedrooms, one downstairs (next to the main bathroom) and two upstairs with en-suites. All of the bathrooms were HUGE. The downstairs one had a bath and the two upstairs ones had double sized shower units. The showers were great too, we don't have one at home so I always really appreciate them when we are away.
The kitchen was huge and equipped with everything you need including a dishwasher. The only thing we did think would be useful was a washing machine, we didn't actually read anything about if there was a launderette and I can't find anything on the website but a week is quite a long time not to wash any clothes. We couldn't find a drying rack either which would have been useful for hanging wet swimming things on.
We loved the way the lodge was all open plan and the kids especially loved the little area on the landing which had a little telly on the wall and some beanbags to chill out on.
The lodge had patio doors leading out to the outdoor seating area and one of nicest things about this area is how close to nature you are. We had bunnies running around outside the entire time.
The Bluestone resort is absolutely huge and there are lots of different housing areas with all different sized lodges, this means you can find one to suit the size of your family in an area that is closest to the things you want to use the most.
Due to the size of the resort there are a couple of options when it comes to getting around. Buggy hire is the first and they look so much fun to drive around in, Tiger was so excited at the sight of them and we did go on our first day to book one but because we were so unorganised and didn't pre-book they were sold out. Initially we were a bit worried about how we would manage but it really wasn't an issue at all, even with Mr C's bad ankle.
It was actually nice to get the exercise.
The other option is bike hire but Mr C would have struggled to cycle up hills with his ankle, especially with the kids in one of the trailers so we just opted to walk. The bikes looked like a really fun option though, perfect for exploring.
In the centre of the Bluestone Wales resort is 'The Village' which is where the restaurants, shops and park are located.
The on-site shop is fine for basics and has a good range selling things like soya milk but I would definitely recommend stocking up at a supermarket on your way.
We did eat out in the Farmhouse Grill on our first night and if I'm honest we weren't very impressed. We hadn't noticed the Knight's Tavern which was opposite though and I've heard that's much better. There is also a Welsh / Italian inspired restaurant that you need to book tables for and that did look really nice but we didn't try it so I can't say for sure. There was a bakery on-site but we weren't overly impressed with that either, the sausage rolls (the only thing Tiger will eat for lunch) were really cheap looking and full of sausage that looked bright pink and the ready made sandwiches looked like ones you would find in a service station. My only real complaint would be about that as it would have been nice to grab something for lunch from there instead of always having to go back to the lodge.
The Spa is also in The Village and is definitely worth a visit. It was one of the highlights for me. You can pre-book but if you go in when you get there then they have an offer of the day board saving you lots of money. We just opted to use the spa for 2 hours and it cost £20 per person. The outdoor hydrotherapy pool is absolutely amazing, we spent most of the time in it and there were lots of different steam and sauna rooms too. I love spas!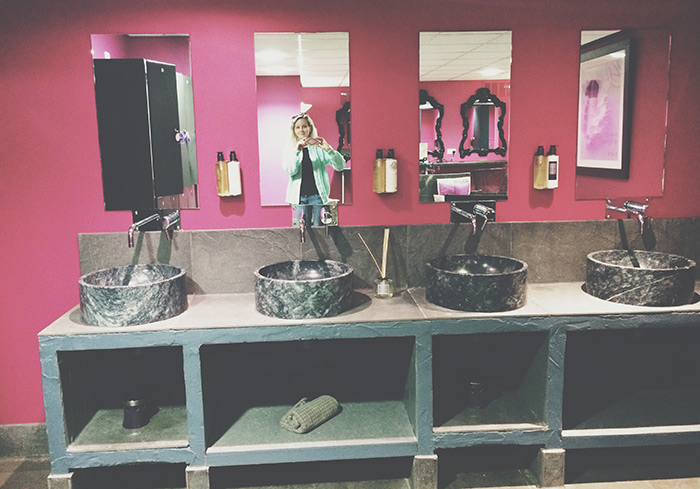 Then up at the top of the resort is the Adventure Centre and The Blue Lagoon Waterpark.
The Adventure Centre is absolutely huge and has all kind of fun activities in it such as soft play, climbing walls, a Lego area, mini golf and a sky walk.
Upstairs is a cafe and 'The Circus Room' which is a full of things to do for younger children.
The Blue Lagoon Waterpark is so much fun, there is a wave machine which comes on every half an hour then a river rapids bit which goes outdoors, there is a jacuzzi halfway round for those brave enough to get out of the water, I'm not one of those people!
Then there are three slides, one of which comes out in an outdoor mini pool half way down according to Mr C. There is also an indoor jacuzzi pool and two smaller pools as well as deck chairs all around the outside for relaxing.
We had so much fun in there.
Here is a little video of our holiday…
Thank you so much to Bluestone Wales for inviting us to stay, if you would like to find out more about them then you can do so HERE.