As part of our role as Konfidence Swimologists the kids have been putting some of their swimwear products to the test. We've been really lucky this year and have had a few weekends away with swimming pools as well as our trip to the Splash Landings water park at Alton Towers a couple of weeks ago so they've been getting lots of use out of them.
One of the really nice things has been watching Tiger go from absolutely hating swimming to enjoying it so much that he doesn't want to get out. It was only in February when we were staying at Bosinver that I had to get him out after one minute as he was screaming so much, such a difference in three months!
Tiger is wearing a Octonauts Explorer Floatsuit and Cherry is wearing a Konfidence jacket. Swimwear products like these make a great alternative to the more traditional armbands and are not only more comfortable but they also mean the arms are free which helps when learning to swim. I can still remember armbands feeling a bit restrictive.
Cherry chose the jacket in pink (no surprise there!) but it comes in four other colours. It has eight removable floats inside which you can gradually take out as they become better at swimming.
Cherry has also been testing some Vorgee goggles and although she hasn't tested them underwater yet they are very useful when Tiger is splashing water at her 😉
I've actually just joined the gym so I'm going to be taking the kids swimming a lot more as they love it so much, it's a bit easier now Tiger is at the age he is too. I find the getting out and trying to get everyone dried and dressed the only hard part but as long as the changing room is a decent size then it's not too bad.
These poncho towels have been great as I just take their costumes off and let them sit in these while I get dressed, they take up hardly any room in the bag either which is a huge plus.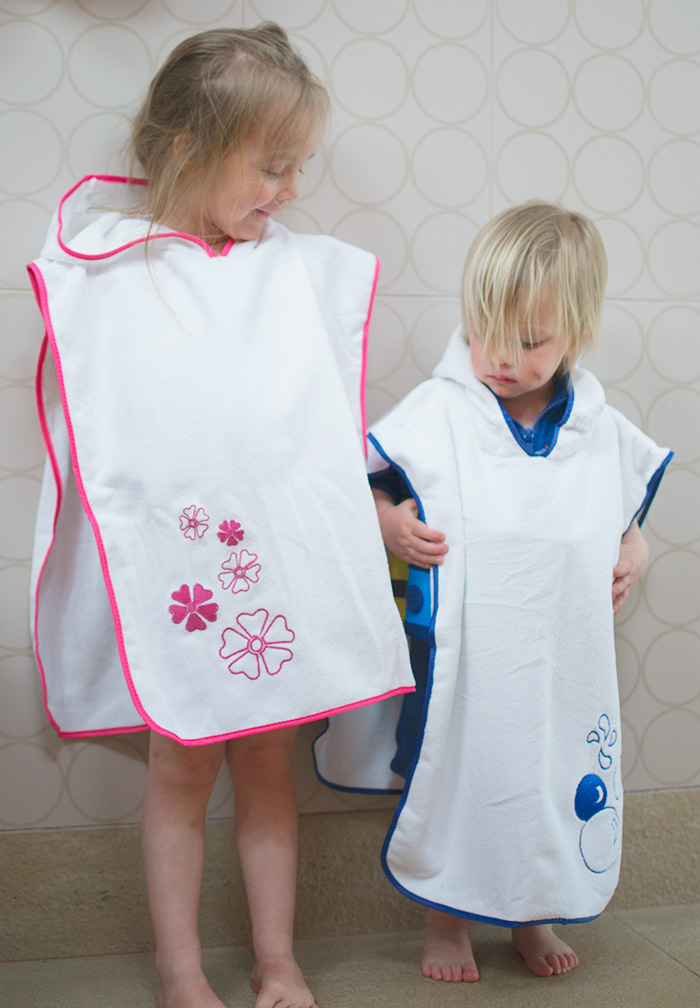 We have also been using one of the roll and go changing mats which are perfect for lying your baby / toddler on to put a nappy on them.
And as an alternative to using disposable swim nappies we were sent an aqua nappy and a neo nappy, you can basically use these together to give the double layer protection that some swimming classes require. I have to admit we haven't tested these yet as I've only just realised that's what they were for!! Swimming nappies are expensive though so I will definitely be using these next time.
What are your essential swimwear products for kids?
We were sent these products as part of the Konfidence Swimologists programme.