A couple of months ago I reviewed a Cosatto Giggle pushchair and as part of my ambassador role for Cosatto I was able to choose another product to review. I went for a car seat this time as Tiger was just about to outgrow his old one. I chose the Cosatto Moova in Cuddle Monster. I couldn't resist the design, it's so bright and colourful.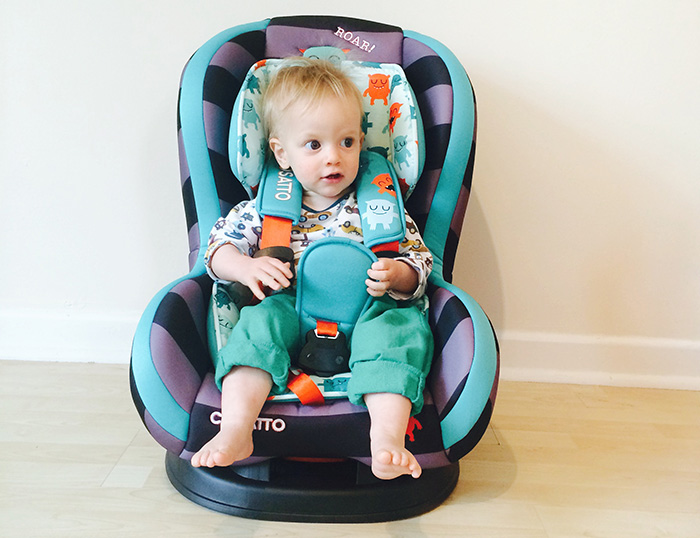 When Cherry had outgrown her baby car seat we went for a group 1-2-3 seat which means it will last from nine months right through until the age of twelve. One of the problems we found was that it didn't recline very much so when she fell asleep her head would fall forward.
It wasn't too much of an issue back then as she was in the front seat next to me so I could put her head back again but as Tiger was going to be in the back and taking into consideration the fact that he still falls asleep on nearly every journey we decided to go for a stage one which means it will last him until he weighs 18kg (around four years of age I believe).
It comes with three recline positions, we have it as laid back as it goes at the moment so he is in optimum sleep position and as you can see below it does the trick.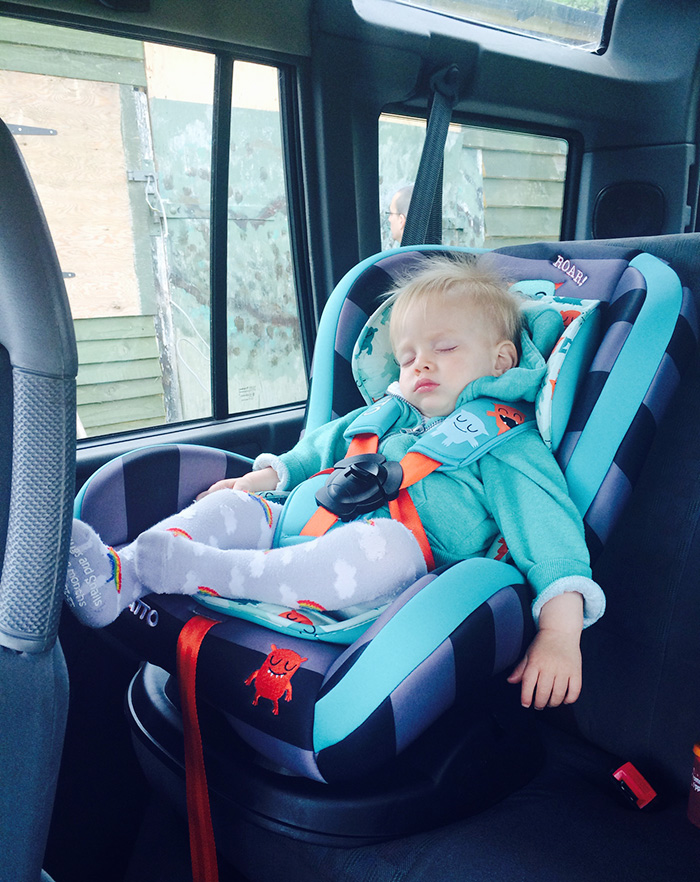 And when he's not asleep he never cries because the Cosatto Moova has been designed with a higher seat position to give a better view so he can see everything. We kept him in his baby seat until he was one and he never liked it when he was a young baby but he hated it by that point as all he could see was the back of the seat.
He also likes it as he can see Cherry now so they make each other laugh, until they both fall asleep that is.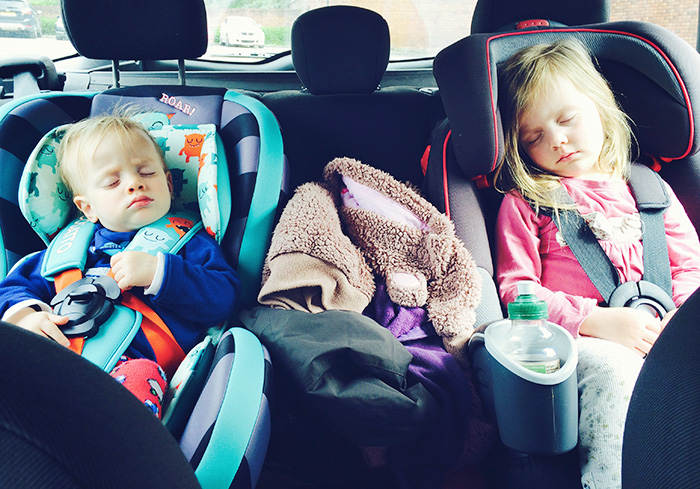 I haven't actually tried to put it in the car myself as I have a real block with strapping in car seats and always let Mr C do them, he did it easily though. If Mr C wasn't around then luckily there are car seat fitting videos on the Cosatto website.
The Moova is so padded and comfortable, it has padded armrests and tummy / chest pads. It has a padded seat liner which is reversible and the covers can all be removed and washed.
It has side impact protection, conforms to ECE R44/04 and comes with a four year guarantee.
We are really impressed with it and it's made travelling by car an enjoyable experience again, well more enjoyable than before anyway 😉
Whether you are looking for a group 0+, 1 or 1-2-3 car seat Cosatto have a great range in some of the brightest and original designs around.
We received this product free of charge for the purpose of this review but all words and opinions are my own.